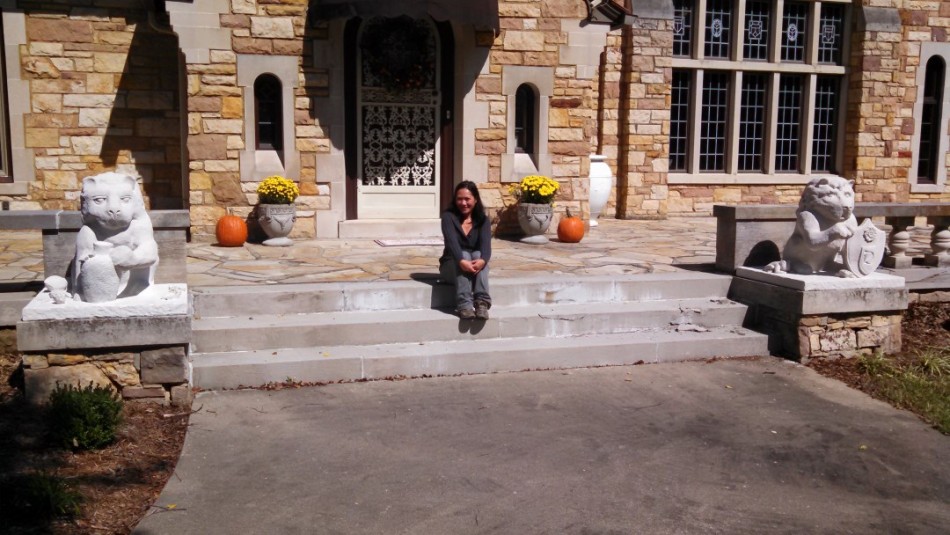 Mrs. Dart with the two lions she commissioned as a birthday present for her husband. She said that as they were moving in to their new house (built in the Twenties) he had said something like "if it had a couple lions on the pillars it would be perfect", so fo years she looked but couldn't find the right lions, so she decided to find a carver and get them custom made. It was a fun collaboration; she had ideas of content, and gave me a free hand with the composition.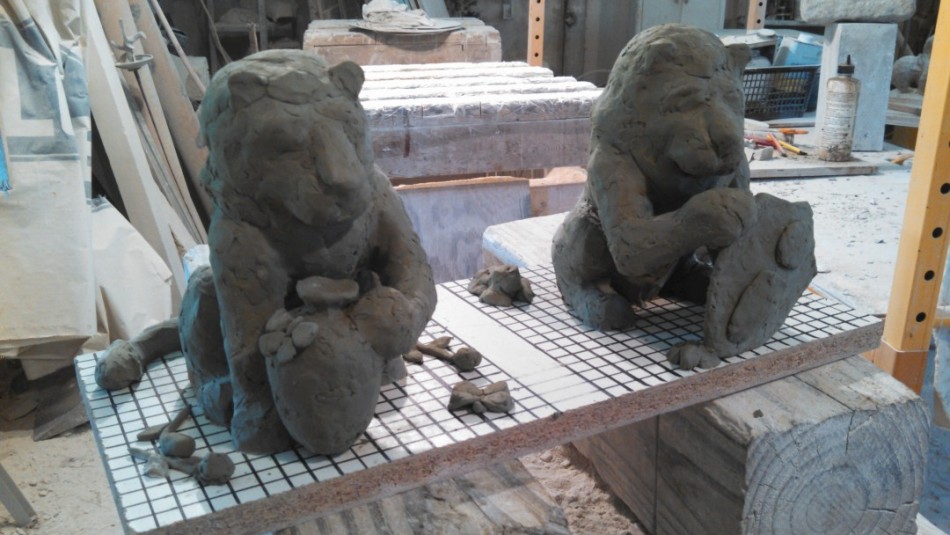 For the lion representing herself, she wanted to be accompanied by roses, butterflies, and a vase; for him, a shield, a tudor rose, a "D", a frog, and a stinkbug. I made 1/4 scale clay models, and after a couple small revisions, approval was given.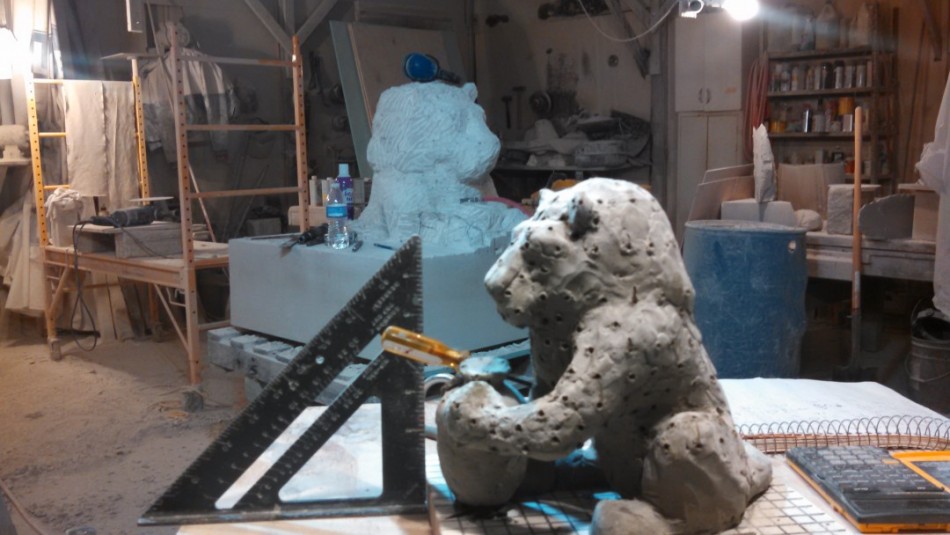 Using a calculator and a variety of measuring tools I enlarged and reproduced the models into stone. The dots on the model represent a point I located and enlarged.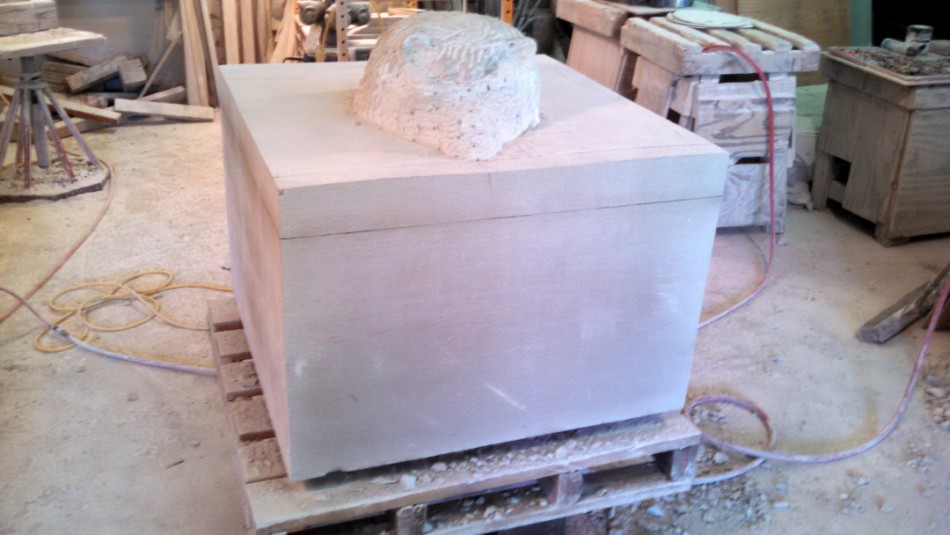 I descended 4″ at a time, using a grinder to knock back the excess. This enabled me to use the original block face as a "true" to measure from. The block size is the same size as the wood pad the clay model is made on.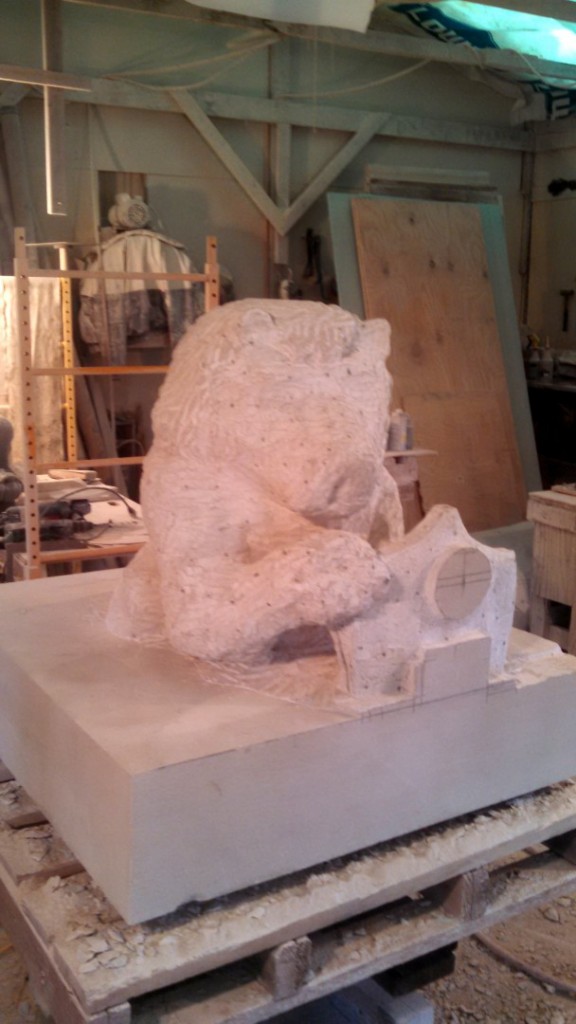 In this way I was able to get very close to a finish without hesitation. Knowing where one is going makes getting there a lot quicker.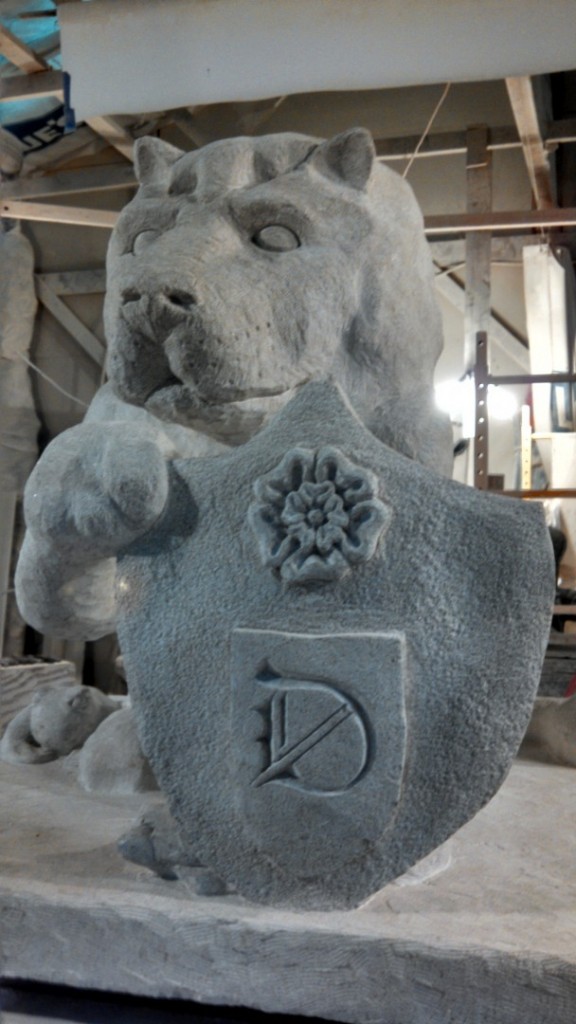 The first one is finished.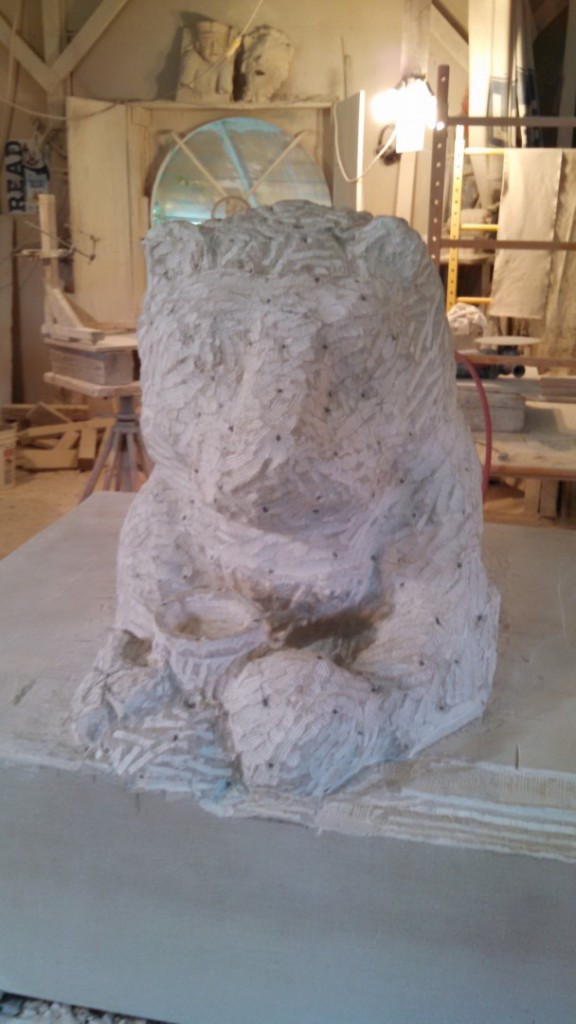 I use a single chisel during the rough in phase, a 1/4″ chisel, so I can keep track of the level of refinement I have taken the surface.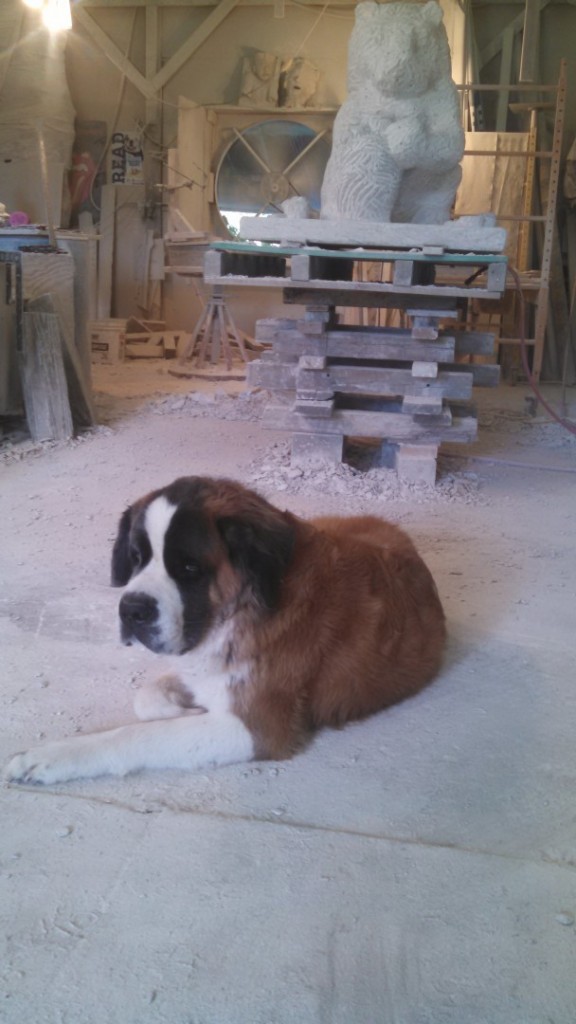 Henry hangs out with me, impervious to the dust.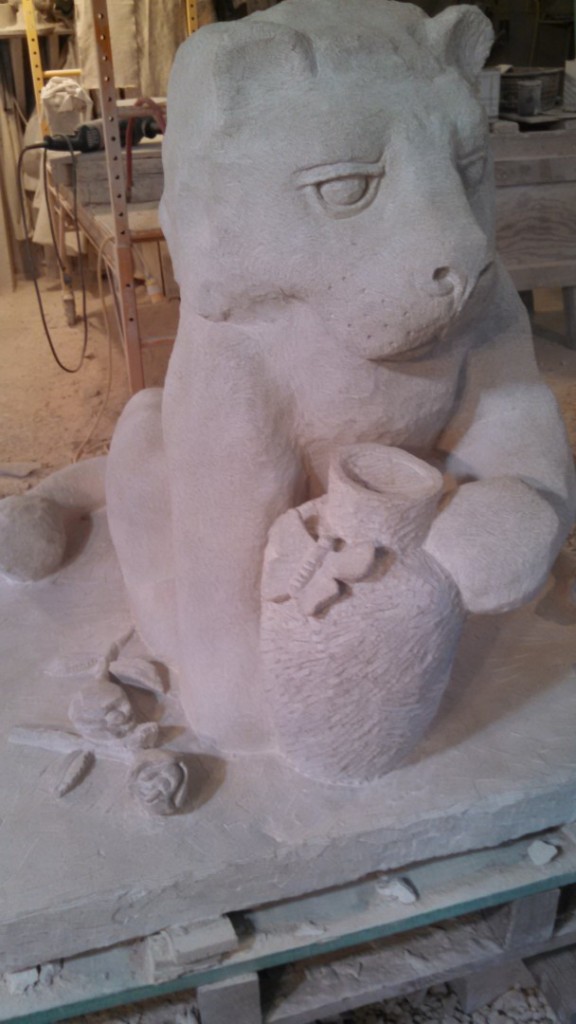 The lion is ready to go.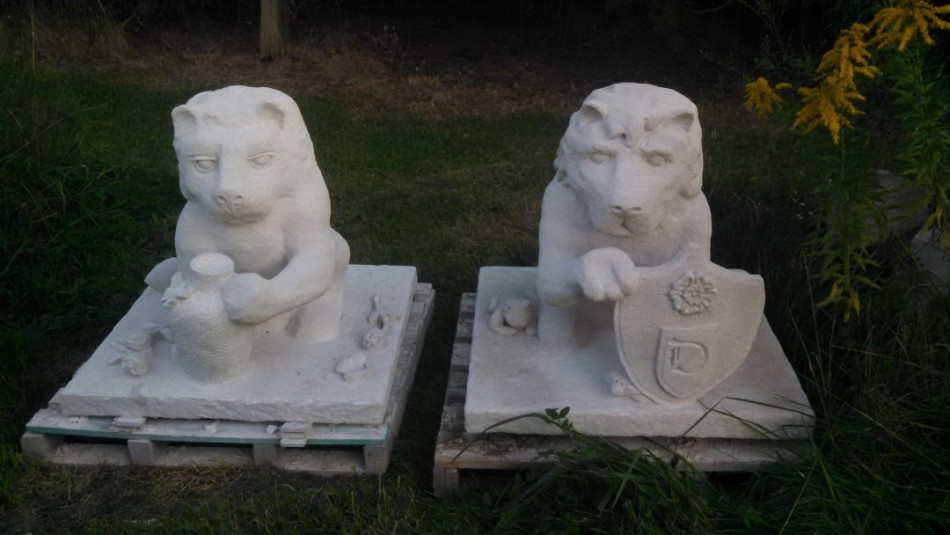 They will never be this close together again. The stink bug is hiding behind the shield, wary of the frog sneaking up. They get acquainted and size each other up. They have a big job ahead.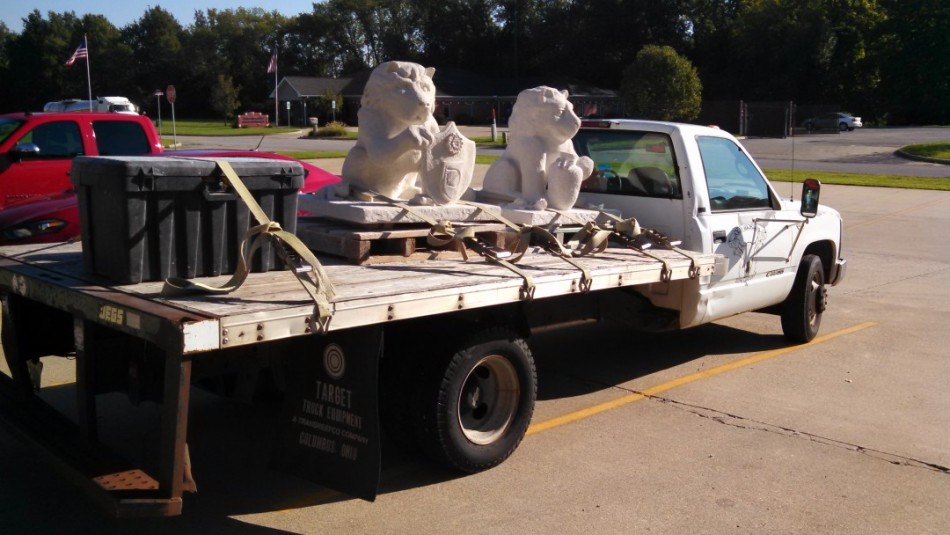 Beautiful morning for a delivery. I had checked in to a hotel the night before- eight hour drive to the site- and had an hour to enjoy some coffee before meeting the lift on site. Driving things like this is always an adventure, and always nerve rattling.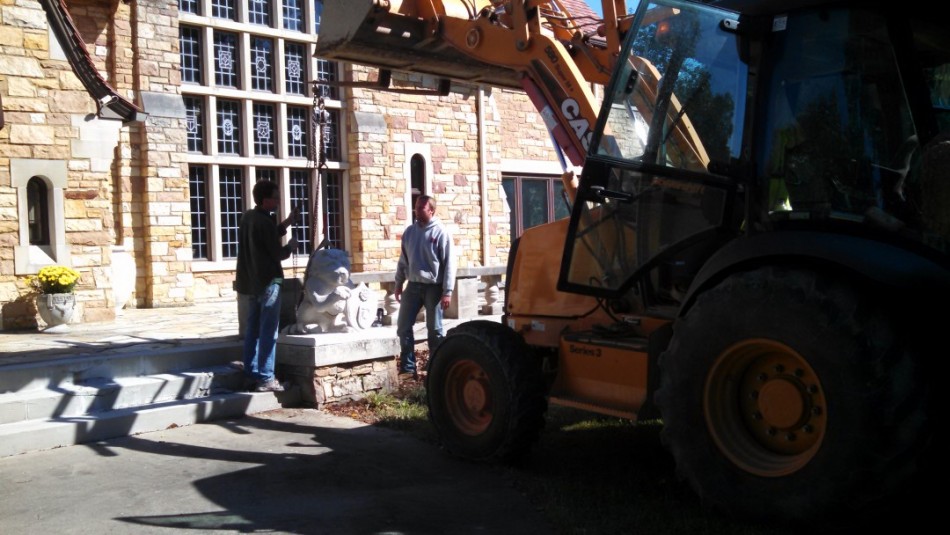 Although the operator was a terrific driver, nothing beats a good old pulley to really put it exactly where you want it. Good bye, lions- may you serve them well. Thanks for letting me be part of it!